Hello Pal

(OTC: HLLPF, CSE: HP)

is up to 194% in 3 months…and it's just getting started
Investors looking for big growth have found it in a few places in the past few years.
Cannabis poured billions of dollars into investors' pockets with returns that often reached into the triple digits.  So did semiconductors, which outperformed every other sector over the past decade, delivering returns as high as 2,800%.[1]
But while those industries got all the headlines, one young and little-noticed industry has been quietly but quickly experiencing significant growth.
And making savvy investors rich along the way.
Market intelligence firm TDG Research calls it "the quiet revolution."[2]
Analysts aren't the only ones calling this explosive new industry a revolution, either. So are investment editors at Barron's, Wall Street Journal, MarketWatch, and Forbes, among others.[3]
This could be the number one profit play today.
The industry is "live streaming," and even if you don't know that term, there's a good chance you've seen or participated in a live stream.
Or if you haven't, you soon will.
In December 2019 the influential arts and culture magazine Hyperallergic reported that livestreaming "is the fastest growing market in the world."[4]
In April 2020 media tech publisher Telemedia wrote that livestreaming has put the world "on the cusp of a revolution."[5]
Rutgers University futurist Mary Chayko identifies three technology revolutions of the 21st century that are remaking our world.[6]
First, broadband connectivity brought so much of the world's knowledge and media right into our homes and offices.
Next, mobile connectivity allowed us to access all that knowledge and media from any place at any time.
Then social media broke down the boundaries between us and the outside world in ways that were unimaginable just a few short years ago.
Now the fourth technology revolution of the 21st century is gaining traction: live streaming.
Profits as high as 1,224%
Every one of the world's seven largest companies has taken big stakes in the industry.
Yet it's the pure play companies that most investors have never heard of that have seen the biggest stock gains.
Stock in one early-entry company shot up 594% in 28 months, giving investors nearly 10 times the Nasdaq's returns from the same time.
But don't let that make you think you're too late for big gains.
Live streaming surges 45% higher during pandemic
In early 2020 the coronavirus pandemic hit, bringing whole industries and much of our outside-the-home activities to a screeching halt.
If 2017 was the dawn of the livestreaming era, spring of 2020 was when it became as essential to our world as smartphones or computers.
Businesses are able to continue operating because of livestreamed meetings and conferences.
Concerts, theater, fashion shows, lectures, zoos, museums, classes, and many other events and attractions have not shut down because of live streaming.
In a June 2020 media trends report, consulting firm Deloitte wrote that "the lockdown live-streaming numbers are out, and they're huge."[9]
So many viewers and participants have turned to livestreaming, in fact, that at the height of the global pandemic, with forced lockdowns across Asia, Europe, and North America, livestreaming grew by an incredible 45%.[10]
Pure play live streaming stocks soar
Almost every social network has its live stream options, including Facebook Live, Instagram Live, and Twitter Live.
Then there are the pure play live streaming Chinese powerhouses Momo (MOMO), Huya (HUYA), and Joyy (YY).
Since mid-March, HUYA has soared 107% and YY 140%.
But as rare as gains like that are in today's market, it's the smaller up-and-comers that are likely to outperform over the long term.
Like China's DouYu (DOYU) and Bilibili (BILI), and one that's just starting to gain traction, Hello Pal International (HLLPF).
DOYU is up 188% since early April.
Looking a little longer-term, BILI is up 275% since last October.

But the real winner is Hello Pal (OTC: HLLPF, CSE: HP), which is up a phenomenal 288% since the end of November – and shows no signs of slowing down!
The world's fastest-growing industry
Analysis from Cisco shows that live streamed video is growing overall by an incredible 33% per year, making it one of the world's fastest growing industries. Maybe the fastest growing.
By comparison, market intelligence firm IBISWorld shows the next fastest-growing industry to be 3D printing, growing at 28.8%, followed by hydraulic fracturing services at 27.8%.[11]
Grand View Research further quantifies the growth, forecasting that the total value of the video streaming market will reach $184.27 billion by 2027, with live streaming "the maximum and fastest growth" over that period.[12]
The industry also has far-reaching economic impact.
Deloitte estimates that in 2018 the revenue generated by services related to livestreaming reached a whopping $545 billion.[13]
And it's not just passive viewership via livestream that's growing, either.
One of the largest and fastest-growing segments of the industry is social media livestreaming.
All the world's biggest companies are buying in
The influential online publication Medium, with readership of more than 120 million, says live streaming is "the future of social media."[14]
Which is why tech titans Microsoft, Apple, Amazon.com, Alphabet (Google), Facebook, and the Chinese companies Alibaba and Tencent – collectively, the seven biggest companies in the world – have all made major investments in both social media and live streaming.
They see where the future is, and they want a part of it.
Social media has become an almost unimaginably huge force in modern life.
In January 2020, NextWeb released its Digital in 2020 report estimating that nearly 60% of the world's population is now on the internet.
The report also states that with global social media users passing 3.8 billion by the end of 2019, "the latest trends suggest that more than half of the world's total population will use social media by the middle of this year [2020]."
And a large share of their activity will be livestreaming.
Hello Pal

(OTC: HLLPF, CSE: HP)

holds a unique key to success
The total number of users on just one of the livestreaming social media platforms, Facebook Live, is now more than 2.5 billion!
As a reference point, that is one third of the world's population.
But while companies like Facebook, Momo, and Joyy dominate the broad general market, many consumers are starting to search for social media networks that are a closer fit to their individual interests.
In fact, the key to success today is to have something that distinguishes a platform from its competitors.
And that is something that Hello Pal has carved out better than nearly any other social network.
Tackling the problem with live stream social networks
The amazing reality of social networks and distance working apps is that because of live streaming, they can now connect people anywhere in the world in real time.
Someone in the US can talk to nearly anyone anywhere in the world.
From your smartphone in Chattanooga, you can connect with someone in Cairo, Caracas, or Chongqing.
The only limitation is language.
You might be able to technically connect with people anywhere, but that doesn't mean you could communicate with them.
That limitation is an unyielding barrier that effectively prevented communication with the vast majority of the world.
That barrier became a challenge for KL Wong, a visionary entrepreneur and inventor whose life took a dramatic turn after the birth of his daughter.
Visionary entrepreneur breaks down the last barrier to true global communication
A Cambridge University trained lawyer, Mr. Wong served as president of Softbank Investment International, the publicly listed venture capital arm of Softbank Group, the 36th largest company in the world.
When his daughter was an infant and while still at Softbank, Mr. Wong founded BrillKids International, a company focused on early childhood education.
He was inspired to start the company after developing a software program to help his daughter Felicity learn to read.
Videos of Felicity reading at the astonishingly young age of 12 months can be seen on the BrillKids website.
When the company took off, and when Mr. Wong found that his true calling and passion was education, he left Softbank for good.
He poured his passion into establishing a non-profit organization to guide and encourage parents and teachers in early childhood education.
The non-profit is called the Early Education for Every Child Foundation, and it now has operations in 10 countries.
Mr. Wong later moved his young family to Hangzhou, China, which is China's Silicon Valley where tech giants like Tencent and Alibaba are headquartered.
Working now from his Hangzhou offices, he discovered that apps like Skype and WeWork allowed him to manage his businesses in Hong Kong with ease.
He could speak and work with anyone anywhere in the world – as long as they spoke the same language.
That frustration inspired Mr. Wong to visualize what a social media app with translation capabilities would look like.
And what it looked like to him was a winner.
Now he just needed to pitch his creation to venture capitalists, a quest that took him to Vancouver, Canada, where he found a group of visionary tech
funders willing and eager to back his idea.
With Hello Pal headquarters in Vancouver, Canada, an international team of skilled software engineers worked according to Wong's design to bring the breakthrough tech platform to life.
Hello Pal

(OTC: HLLPF, CSE: HP)

,  is a go-to network for social interaction that transcends language barriers
Users of the Hello Pal platform are able to connect with other users either in their own neighborhood or in more than 200 countries around the world.
The platform's built-in live translation software allows users to chat with others in any language.
You can say something in English to another user who only speaks Mandarin Chinese, and your message is seamlessly delivered to that person in their own language.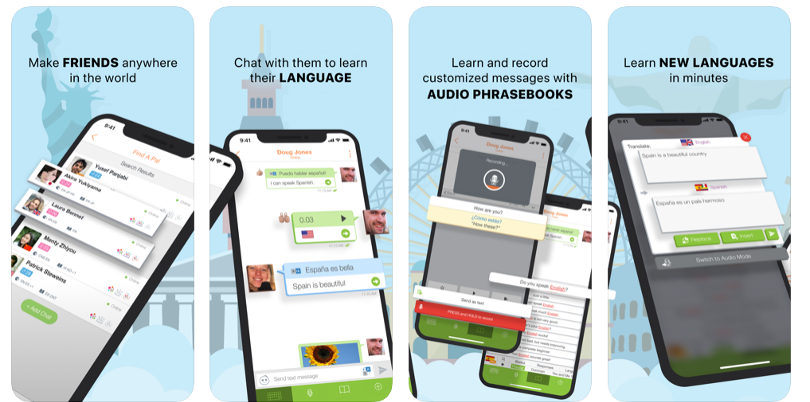 To show how advanced Hello Pal's technology is, consider that Google, one of the world's most advanced app developers, did not introduce a real-time translation feature until March of this year.[15]
What's more, it works for only eight languages.
In April, another company named SyncWords, which specializes in automated subtitling software, introduced a platform for real-time translation of live programming on Facebook Live, Twitch, and Twitter. The functionality is limited to subtitling, however.[16]
But language is only part of Hello Pal's appeal.
Hello Pal (OTC: HLLPF, CSE: HP) is designed to help its users actually understand other countries and communities.
"The purpose of this company," says Mr. Wong, "is to bring the world closer together."
Hello Pal's 100% organic growth tops 2,000 new users per day after just 3 months!
Organic growth is essential to the success of any social network. Hello Pal user base is growing entirely organically, by word of mouth and user searches.
With its official livestreaming launch just this past April, the network is just getting started, and is already adding more than 2,000 members a day.
Revenue is also growing at a fast pace. Revenue for April 2020 increased a whopping 42.8% from March totals, reaching $640,000.
And then in May, revenue soared past the $1 million milestone.
The company expects exponential revenue growth of a whopping 150%, to $2.5 million, by the end of 2020.
That is an annualized growth rate of 300%!
With a current registered user base of over 5 million, representing 200+ countries and regions, Hello Pal is fast becoming a social network force.

TikTok stumbles, Hello Pal takes the ball

When U.S. President Donald Trump threatened to shut down the global social media short video app TikTok in the U.S., the app's parent company, Chinese-owned ByteDance, quickly agreed to sell its U.S. operations.
That didn't go over well with TikTok's estimated 456 million Chinese users.
They are "very outraged," and "are demanding that ByteDance put up more of a fight," calling the company CEO "a sellout," says venture capitalist and Chinese tech expert Rui Ma.[i]
Social media platforms need to reach a critical mass of users in order to succeed.
When there are enough users to provide a constant stream of new connections and interesting, ever-changing content, then the platform can go viral, generating scores of new users on word of mouth alone.
If a platform like TikTok suddenly loses a significant number of users, the reverse happens. The site becomes stale, and users go in search of more vibrant and engaging platforms.
Hello Pal already has a strong Chinese user base. Which means there is a good chance that it could pick up a significant proportion of dissatisfied TikTok users.
Powerhouse executive team positions Hello Pal as a potential Wall Street success story
Hello Pal's unique position in the social network universe, and KL Wong's extraordinary vision and leadership skills have attracted a handful of powerhouse backers and executives.
While Mr. Wong works from the city of Hangzhou, known as China's silicon valley, where he has access to some of the brightest tech minds in Asia, Hello Pal's day-to-day operations are managed from the company's Vancouver corporate offices.
Directors Gunther Roehlig and Robert McMorran are not only major Hello Pal stakeholders, they are also seasoned executives with deep history in the often complex management of junior public companies.
Additionally, Mr. Hans Xu sits on the Board of Directors of Hello Pal and is also one of the company's largest shareholders.
Mr. Xu is also the managing partner of New Margin Ventures, China's leading venture capital firm, with more than $2 billion under management.
In that role, Mr. Xu was instrumental in the $25 billion IPO of Tencent Music Entertainment Group, which started trading in 2019 on the NYSE under the symbol TME.
Could Hello Pal

(OTC: HLLPF, CSE: HP)

be a significant social network? (This VC leader thinks it could)
Under the guidance of the company's visionary architects and skillful managers, there is investment world chatter that Hello Pal may be the next big Wall Street success story.
For social media networks, there is noteworthy revenue upside. And with Hello Pal's unique platform and 100% organic user acquisition, the company is positioned for rapid growth.
That potential for big growth is what caught the eye of Mr. Hans and his venture fund.
In fact, after his due diligence research into Hello Pal, Mr. Hans said, "Hello Pal is one of the best app ideas since I saw QQ, which is now worth billions."
The rise of live streaming social networks is one of the biggest tech stories of the 21st century.
After reaching a market value of $57 billion in a few short years, the industry is projected to continue its fast growth into the foreseeable future.
Live streaming stocks are posting returns that are beating the market by wide margins.
Hello Pal has already been outperforming many of its peers. But this is just the beginning for the rapidly growing company.
HLLPF still trades at a price well below its peers.
But it won't for long. As more news is generated and word gets out, expect investors to discover this up-and-coming social network.
Ask your broker about Hello Pal International (OTC: HLLPF, CSE: HP). And always remember to do your own due diligence before buying any stock.
[optin-monster-shortcode id="fuk2pjpm5kxhorhyhm7v"]
This report is for information purposes only and is neither a solicitation or recommendation to buy nor an offer to sell securities. Financials Trend is not-a-registered-investment-advisor. Financials Trend is not a broker-dealer. Information, opinions, and analysis contained herein are based on sources believed to be reliable, but no representation, expressed or implied, is made as to its accuracy, completeness or correctness. The opinions contained herein reflect our current judgment and are subject to change without notice. Financials Trend accepts no liability for any losses arising from an investor's reliance on the use of this material. Financials Trend has been compensated 3.1k for coverage of this stock by Think Ink Marketing this month. Financials Trend and its affiliates or officers currently hold no shares of this stock. Financials Trend and its affiliates or officers will purchase and sell shares of common stock of these stocks, in the open market at any time without notice. Financials Trend will not update its purchases and sales of these stocks in any future postings on Financials Trend's websites. Certain information included herein is forward-looking within the context of the Private Securities Litigation Reform Act of 1995, including, but not limited to, statements concerning manufacturing, marketing, growth, and expansion. The words "may", "would," "will," "expect," "estimate," "anticipate," "believe," "intend," " project," and similar expressions and variations thereof are intended to identify forward-looking statements. Such forward-looking information involves important risks and uncertainties that could affect actual results and cause them to differ materially from expectations expressed herein. *Financials Trend does not set price targets on securities. Never invest into a stock discussed on this web site or in this email alert unless you can afford to lose your entire investment.